SCP-191 - "Cyborg Child", written by Sylocat and DrClef and posted on June 30th, 2010, is a cyborg girl, with various limbs and organs replaced by mechanical units. The work was done by a mad scientist, who killed himself as his laboratory was raided by a combination of the Foundation and the Global Occult Coalition 's forces. Most of her body functions have been altered. As the vocal apparatus has been removed, she is unable to talk, but can communicate by connecting herself to a computer or other electronic devices.[1]
Story
Possibly born with the name "Victoria"[2], less likely named "Cindy"[3] or "Cybie"[4], SCP-191 is a female child, 8 years old[5]. She may have lived in Toronto[6] before being captured by Dr. Colin Salvadore[7]. Some time prior or perhaps during her capture, she watched and enjoyed Frankenstein and had a parental figure to go trick or treating with as Boris Karloff's version of Frankenstein. It's possible that the parental figure is Dr. Salvadore[8].
As a result of the experiments performed on it by Dr. Salvadore, SCP-191 now has a complex transceiver system in the left half of the skull that is capable of picking up standard senses like audio and video along with a wider spectrum of electromagnetic radiation ranging from low frequency radio to high-energy gamma rays. Because of these alterations, it is incapable of speech and can only communicate through interfaces in technology, although it has been able to respirate rapidly to express distress. Interfaces on its right arm allow it to be plugged into devices of many different formats.
Implanted into the brain is a 24-core processor array which translates input from all artificial components so that SCP-191 can directly read and write data without an additional external interface. Internal communication is carried out through fiber optic cables implanted through the glial cells and the entire nervous system. The lungs, heart, and major blood vessels have been replaced with mechanical analogues. These systems allow SCP-191 to be restarted after death, but more information on this had been expunged from the article. The digestive system had been completely reconfigured to the point where regular food intake is unnecessary and dangerous. Waste is disposed of via a drainage system located in the lower back and consists of a thick, dark gray viscus slime, what this slime is composed of is expunged. The reproductive organs (uterus, ovaries, etc.) were replaced with something expunged from the document to, according to Dr. Salvadore's, "provide extra space by removing non-vital components." Inside are batteries used (presumably) to power certain parts of its body when not directly connected to a power source.
At least 15 other alterations of unknown purpose had been added to SCP-191's body. These were haphazardly integrated, and are considered "useful", so they were likely performed just to test the viability of such procedures on other subjects. The Foundation is investigating Dr. Salvadore because of these. The Foundation does not know the reason for these alterations. Along with these are two major alterations that had been expunged from the document. These experiments left SCP-191 with damaged motor skills, from damage to the brainstem and cerebellum during the implantation procedure. All of these artificial parts were highly technologically advanced.
At an unknown date after these experiments, Dr. Salvadore lab was raided by The Foundation and the Global Occult Coalition in a temporary collaborative effort for Dr. Salvadore being a suspected member of Serpent's Hand[9]. At least three members of the GOC were sent in along with Agent Cann[10][11]. The doctor disposed of many subjects and others were eliminated as hostiles by the task force. SCP-191 was the only living test subject and was thus recovered. Preliminary assessment was performed where they founded that full reconstruction was impossible, that the components introduced were too technologically advanced to risk becoming widely known, and that it could be a source of valuable data regarding Serpent's Hand, Dr. Salvadore, or some third aspect that the document does not allow knowledge of. Dr. Salvadore committed suicide via gunshot wound during the raid[12]. Following the raid, a single half-burned spiral bound notebook belonging to the doctor was found, containing mostly cryptic notes regarding a "higher purpose".
At this time, it was classified as SCP-191 and moved to Site-██ on an unknown date, before presumably being moved to Site-17. The disappearance of SCP-191 and other test subjects from the raided lab was later blamed on a local serial killer who was arranged to be killed in prison while awaiting trial.
In Foundation Custody
SCP-191 is bathed every evening in a washtub filled with a solution of water and baking soda. After being bathed SCP-191 is checked for injury, and if there is any then staff are to refer to documents "191-Alpha (Special Medical Needs)" and "191-Alpha Supplemental (Repair of Non-Biological Components)". It is fed a sterile saline solution supplemented with vitamins, minerals, antibiotics, and a mild anesthetic, twice a day via injection into a metallic tube located in the base of her neck. It is capable of limited self-care including draining waste and recharging internal batteries. The Foundation keeps a log of power consumption and unusual changes are reported to supervising staff. If personnel make contact with SCP-191 they have two armed guards with them. Standard anti-computer countermeasures are ineffective as SCP-191's components had been hardened against electromagnetic pulse.
Reconstructive surgery by Dr. Karen Lee[13] provide mild relief to SCP-191 reduced pain and temperature sensitivity in the limbs. It is required that it regularly takes antibiotic and analgesics on top of this. Hormone therapy due to the missing reproductive organs was proposed and is under review pending analysis of possible complications due to what they are replaced with.
Dr. Glass provided a psychological analysis of SCP-191 showing that it is docile, cooperative, and typically melancholy. When not being interacted with, it spends most of its time sitting still or curled up in a fetal position, either because of distress or for physical comfort as normal body movements and postures are difficult. Mental acuity is questionable. Although capable of rapid data analysis and communications when physically linked to a computer system, it seems unable to follow conversations with human beings unless the conversant speaks slowly and uses simple words. Complex tasks are also impossible unless it is guided at every step. Its mood is consistent, though somewhat inscrutable. It will not make eye contact unless asked to, and any attempts to induce a cheerful or humorous mood have proven fruitless. It shows no signs of ongoing mental distress and claims that it is feeling well. At no point had SCP-191 requested access to, or information about, any acquaintances it had before its abduction.
During containment, SCP-191 befriends SCP-134 and SCP-2273. At an unknown time, when SCP-191 was 8 years old, SCP-239 caused a VK-Class Reality Restructuring Event caused by thoughts of Halloween and wanting to go trick-or-treating. In this new alternate reality, SCP-191, named Cindy, dresses as a robot and is escorted along with SCP-239, SCP-134, and SCP-040 by SCP-105 through SCP-1936. This alternate reality was reformed and changed back to normal after SCP-239 tries to make friends with Dr. Clef and he stabs her with SCP-668, reversing all the effects and returning things to normal.[14]
On January 20th, 1992, an interview with SCP-2273 establishes that he agreed to be downgraded to a Type C sapient anomaly and socialize with other sapient anomalies, the most eligible of which being SCP-191. SCP-2273 agreed to learn english to do so[15]. SCP-191 was the only one who didn't show disgust to SCP-2273 when they first met. SCP-2273 considers them to be best friends, the closest either of them has to family. It is the one to refer to SCP-191 as "Victoria", and wanted to make up to SCP-191 for "what I did in the Toronto bunkers, and elsewhere"[16].
Roughly 10-20 years later, when it is in its twenties (although not aging at all), SCP-191's body began to reject the biological aspects in favor of the mechanical ones. Using scraps from the decommissioned SCP-1016-D, particularly his artificial skin, doctors began swapping out mechanical parts in favor of biological ones. 10 more years later, now in its thirties, SCP-191 looks perfectly human minus a small part of the brain and right eye, which were prone to drying out and inflammations. SCP-191 clung to it for a long time, like a child to her favored toy. Request for a replacement eye was pending approval, and a more practical implant would soon be installed[17].
"Many years" before March 11th, 2004, SCP-191 was released from containment at Site-17, being moved to Saint Thomas Aquinas Hospital and Asylum for the Paranormally Disabled in Austin, Texas. Her and SCP-2273 began playing chess against each other, and SCP-191 regularly requested that SCP-2273 talk about his war stories[18].
At an unknown time after March 20th, 2004, and before March 31st, 2021, SCP-191 was Neutralized. SCP-2273 has stated in a letter written on December 4th, 2022 that he prays for SCP-191, among others[19].
On December 16th, 2017, The SCP Foundations web crawler "EmoSpiderMan.aic" discovered a web series entitled "Habil and Qabil", a fictional sitcom set at Site-17 featuring SCP-076-2 and SCP-073 being played by unknown actors. SCP-191 in her original appearance when acquired by the foundation acts as one of the main characters, named "Cybie". Her prosthetics are computer generated and are not completely accurate, using a voicebox to speak in a stereotypical robot voice intended to comically contrast with her nature as an extremely stereotypical preteen girl. Unlike the real SCP-191, the character is highly exuberant and does not appear to suffer any psychological or mental trauma from her abduction and subsequent mutilation.
In Episode #101, SCP-191 has a tea part with SCP-134, several instances of SCP-1926, and SCP-706, joined by SCP-076-2 and SCP-073. Able ruins the tea party.
In Episode #102, SCP-1370 attempts to attack SCP-191 and SCP-134, but they fail to realize it and instead treat it like a doll, having it accept the name of "Princess Priscilla Pie".
Episode #104 is primarily centered around SCP-191. SCP-191 confesses to SCP-134 that she feels inferior to SCP-073 since she's just a regular cyborg, whereas he is a magic cyborg "Cursed by the God of Abraham and forged by the dark and powerful alchemy of an ancient and bloodthirsty race whose very existence had to be wiped from history to safeguard our reality from their unquenchable conquest!". She attempts to emulate several of SCP-073's abilities and becomes depressed when she fails to do so. SCP-073 comforts her by pointing out all the things she can do (mostly computer related) that he can't.
In Episode #105, SCP-191 is watching Finding Nemo with SCP-134.
In Episode #109, SCP-191 catches a virus and experiences numerous malfunctions that the others have to deal with until she recovers.
In Episode #110, SCP-076-2 and SCP-105 take SCP-191 and SCP-134 to the Site-17 Library, where SCP-191 finds a children's illustrated bible and asks if SCP-076-2 is the same Abel from the book.
How Dr. Clef Contained Christmas
SCP-191 makes a brief appearance in the tale "How Dr. Clef Contained Christmas!". It appears to Dr. Clef saying "A D-Class, why, why are you locking down our Christmas things? WHY?". Dr. Clef replies with hostility but SCP-191 is able to dodge and attack. Dr. Clef injects it with an amnestic and dropped it into SCP-173's pen. At the end of the story, all of Site-19 where the story takes place is nuked, ending with "And then they all died. THE END". Because of this, the information basically can not be implemented anywhere in the timeline and is simply a fun story.[21]
Containment Area
SCP-191 is housed in a 6x6x6 meter room at Site-17 and never made any requests for furnishing or entertainment. One wooden-frame futon with a 15 cm pad and standard cotton bedsheets and blankets is placed in her room. All sheets are sterilized every morning according to standard procedures. The futon pad itself is replaced every six months with the old one being disposed through incineration. One standard 220V type G power outlet with an emergency cut-off box (fuse, circuit breaker, and manual non-insulating guillotine) is located outside the cell. Finally there is one standard hazardous waste disposal unit (liquid and solid waste) with all drainage tubes leading directly to an incinerator unit. One wall has a translucent screen used in case of privacy purposes during interaction. The containment cell is neighboring that of SCP-166's cell[22].
Testing
SCP-191 was tested with various software and computer related instructions to determine its capabilities, these tests being presided over by Dr. Lee. In the first experiment, it is given MS Paint and instructed to interface with a computer via USB port and draw specified pictures. SCP-191 was instantly able to emulate the functions of a mouse and keyboard. When showed any photograph, SCP-191 was able to reproduce it within seconds using only the pencil tool, creating copies indistinguishable from the original. However, after the test, SCP-191 continued drawing three additional images. The first being three people wearing GOC uniforms standing in a burning office, pointing guns at Dr. Salvadore across the room. He is committing suicide via gunshot wound to the head, his face obscured by blood.The second image being of an adult and child trick-or-treating. The child is a girl wearing makeup similar to that worn of Boris Karloff in Frankenstein, and it is unknown what the adult was wearing as it is expunged from the document. The third image is expunged from the document, but a footnote states that it is something that caused the researchers to need to ask if it was feeling well, to which it replied via text file saying that it was fine and the image "didn't mean anything".
The second test had SCP-191 attempt to emulate the functions of a "Wiimote" and play the video game Metroid Prime 3: Corruption. The test began poorly as SCP-191's impaired motor skills caused it to snap the disc in two before it could place it in the console. SCP-191 became distressed. It then stared at the disc, and the red light from its eye changed to green for a moment. When Dr. Lee returned with a fresh disc (less than two minutes had passed), the game was already running on the machine. Dr. Lee inquired as to how that had happened, and a message appeared on the screen saying, "I looked at the ones and the zeroes and I loaded those in. I'm sorry, I know I'm not supposed to do it this way, but I didn't want you to waste a disc. Please don't be angry". SCP-191 still seemed fearful of reprimand, even after being reassured that it was doing excellently. SCP-191 made a perfect run-through of the game, despite the fact that it did not make any physical movements consistent with the Wii controls.
The final test had SCP-191 use Adobe After Effects[23] to edit a 40-second video file from a security camera located in the employee cafeteria, and perform a series of video-enhancement techniques used by forensic detectives on the popular television drama "C.S.I." (techniques that cannot actually be done in reality). SCP-191 could not understand the instructions at first. Dr. Lee had to provide a lengthy explanation, and then stand behind SCP-191 and give it instructions one step at a time. It was several minutes before the test could even begin. However, once SCP-191 actually got started, the videos and frames were finished in less than seven minutes (of which at least three were spent watching the rendering progress bar).
"Zoom and Enhance": SCP-191 was instructed to zoom in on the window over the parking lot and render the license plates on the cars, which were illegible from this distance (the actual license plates had been photographed for reference). SCP-191 successfully rendered close-ups of the license plates, complete with photo realistic scratches and dents. However, the plates were found not to match the license plates on the vehicles. SCP-191 typed, "The data wasn't there, so I had to guess." The actual license plates are redacted (███-███, ███-███, ███-███ and ███-███), and the license plates generated by SCP-191 were "IAM-191", "191-ISA", "600-DMA", and "CHI-930" (I am 191 191 is a good machine).
"Uncrop": SCP-191 was asked to shrink the video by 100 px on every side, and fill in the blank space with what it believed the rest of the cafeteria looked like (again, data that was not actually available in the video). SCP-191 expanded the video canvas and filling in what was in the blank space, rendering the extra image seamlessly. It did not match the actual cafeteria, but once again, the data was not in the video file and SCP-191 had been forced to guess.
"Rotate Camera": SCP-191 was informed of the exact location and angle of the other security camera in the cafeteria, and asked to render the scene was viewed from that angle, filling in the parts that the current camera did not see (the actual footage from the second camera was requisitioned and held for reference). The generated video matched the angle of the second camera perfectly, and almost everything visible from the angle of C-1 matched the scene in C-2 very closely. As before, places not visible were very different. One table only visible in C-2 that had been seating someone was now (in the generated video) seating Dr. Lee and Agent Cann, eating lunch and talking. A lip-reader was brought in to decipher what they were saying the simulation video. What it was is expunged, but it made the doctor uncomfortable and the agent declined to comment.
Although there were many visual differences between the original videos and SCP-191's copies, many on-site personnel were unable to determine which ones were the forgeries.[24]
Appearance
Because of the surgeries performed by Dr. Salvadore, SCP-191 has a very mechanical and cybernetic appearance. 80% of the left half of the face and skull is removed, with the eye and ear replaced by a complex transceiver system. The lower jaw, teeth, and larynx were replaced with something that has expunged from the original document. On the back of its neck is a metallic tube that is used for feeding directly connected to the esophagus. The trachea had been rerouted directly to an air filtration device.
The right arm has been nearly completely replaced with artificial components made of steel, carbon-fiber, and an unknown polymer-like substance. There are some areas of tissue exposed that are susceptible to injury and infection. This replacement also applies to the right foreleg. On the right forearm is an input-output device replacing the radius and ulna bones. The device contains interfaces for USB, Ethernet, Firewire, DIN-8 Pin, and seven interfaces of no known format. This is hidden underneath the skin, which can be pulled back like a shirt sleeve.
On the lower back is a drainage system used to dispose of waste. SCP-191 does not have a uterus, ovaries, or other reproductive organs, as these were replaced with something that was expunged from the document. There are additionally two major alterations that are expunged and 15 that are of unknown purpose, what these look like or even what they are is unknown.
Its eyes glows red, but are capable of changing color depending on what SCP-191 is doing or their mood, changing to green when distressed during the second experiment[25]. SCP-191 is dressed by the Foundation in loose, sleeveless garments made of 100% long-staple cotton, with fresh clothing provided daily and used garments sterilized according to standard procedures.
Significance
SCP-191 is primarily kept by the Foundation for potentially holding valuable information regarding Serpent's Hand, Dr. Salvadore, or some third aspect that the document does not allow knowledge of. The alterations to SCP-191's body are highly advanced to the point of it being too much of a risk to let them become known to the public, implying that SCP-191 is being kept for study in this regard.
Documents
The following is a list of all documents that the Foundation has regarding SCP-191. Not all of these have corresponding pages on the SCP Wiki.
SCP-191 Document - The base document providing description and Special Containment Procedures.
191-Alpha (Special Medical Needs) - A document used in the event that SCP-191 has an injury after bathing.
191-Alpha Supplemental (Repair of Non-Biological Components) - Supplemental information to 191-Alpha.
Experiment Log 191 - The test log for the capabilities of SCP-191.
Psychological Analysis by Dr. Glass - Dr. Glass provides a psychological analysis of SCP-191.
Relation to Other SCPs
History
SCP-191 was written by Sylocat and DrClef and posted by DrClef on June 30th, 2010. DrClef jokingly referred to it as "Sylocat's Syborg".[36] The initial image was cropped more on the little girl and darker than the one used now, it was also hosted on Flickr rather than on-site[37]. This was corrected the same day of posting by Clef. Later, a user by the name of Orikae Mcawesome provided the version we know now, which again was hosted on Flickr when it was added by Sylocat before being corrected to being on-site[38]. User Quikngruvn on July 6th, 2010 provided many measurement and formatting fixes[39]. The document originally had the tags "Child" and "Electronic", but these were later removed by Aelanna on March 30th, 2012[40]. The additional Experiment Log was added on July 10th, 2010 by Sylocat[41]. June 6th, 2017, the Wikiwalk navigation was added to the bottom of the page by jarvis-bot[42]. Briefly, user Okeirany attempted to alter the page to include SCP-191 in their own project "Site Omega", placing it in Site Omega's Secondary Sector in a 10 m x 8 m x 5 m room, however this was reverted as Site Omega largely failed[43].
In the Experiment Log for SCP-191, there was a removed test in which SCP-191 was provided one laptop computer with ethernet access and given the instruction to access a members-only website without paying a subscription fee. This was a success, but the person who authorized it was reported by Agent Cann as it implies it was a porn site. The researcher was reassigned to SCP-682 containment before being redirected to SCP-835 maintenance by recommendation of Dr. Lee and under the approval of O5-█. This was changed to being demoted to D-Class in revision 6 made on July 15th, 2010 before being removed entirely. Additionally the Experiment Log stated that in the second experiment that SCP-191 broke any known record of completion time and when asked how it was doing this, a new message appeared on screen saying "I'm just telling it where the control is moving"[44].
In a direct message between DesertMoonGW and Sylocat, he stated that he found the image through Google Image Search for a stock photo of a sad girl, and photoshopped stock photos and textures of machine parts. The Doctor and Agent were originally going to be used in a "big Foundation storyline/tale thingy" he was planning to write but never actually got to. Dr. Salvadore was a part of a non-SCP related writing project Sylocat was working on, but also did not ever finish.[45]
On the Secure Facilities Location-ARC Document (Archived on January 10th, 2014), it states that SCP-191 was kept at Site-32 along with SCP-037 located near the geographic north pole. The site functions as a Euclid-class facility with objects requiring near Keter-class type containment needing low temperatures to sustain research/containment[46]. This is likely however in reference to a previous, different SCP-191, which can be found below.
April Fools 2014 "Super Cute Pets! :3c"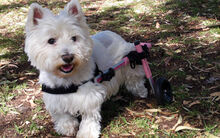 For April Fools 2014 the SCP Wiki changed its main page along with many popular articles to instead have pictures of cute animals with short, typically only one sentence descriptions playing off what the SCP was originally in regard to the new pet. SCP-191's image was replaced with that of a Maltese Puppy in a pink wheelchair in the outside daylight shade. The brief description of SCP-191 during the April Fools 2014 event was:
"SCP-191 has had some modifications!"
This change, along with all other changes that were done for April Fools 2014, was reverted on April 2nd. These changes were actually made on March 31st in preparation for the day[47]. The dog pictured is taken from the website "Lesson From a Paralyzed Dog"[48], her name is Hailey and she uses a dog wheelchair from Walk' Wheels Dog Wheelchairs. On August 10th, 2012, Hailey sadly lost her life to Neosporosis.[49]
Previous SCP-191's
Prior to the current iteration of SCP-191, there was a different entry all together back on EditThis which did not make it past the migration over to Wikidot. Titled "Light-Discharging Insect", the document went as follows:
Item #: SCP-191
Object Class: Euclid
Special Containment Procedures: SCP-191 must be contained in a sealed steel chamber completely devoid of visible light. The walls and ceiling must be suitably braced to withstand regular high-energy impacts. Secondary containment in the form of a completely opaque light-proof "tent" is to surround the chamber at all times. Access by cleared personnel is limited to bi-weekly feedings, and must be via a two-stage airlock, preventing outside light from entering the chamber. Surveillance by infra-red cameras and MR-imaging must be maintained at all times, and any movements or other activity by SCP-191 must be reported to the on-duty Level 3 supervisor.
Description: SCP-191 is a quadrupedal insect-like creature 1.52 m (5 ft) long and 0.91 m (3 ft) tall, with a chitinous exoskeleton composed of iron sulfides, similar to the shells of arthropods living near deep-sea geothermal vents. It has four free-moving appendages similar to dragonfly wings, but has exhibited no ability to fly under its own power. SCP-191's wing-appendages absorb light in the visible spectrum, and convert it into physical force. The conversion occurs instantaneously, at the rate of approximately 10,000 joules for every 1.5 candela. The energy is emitted from SCP-191's body equally in all directions. SCP-191 is carnivorous, but also seems to draw nourishment from exposure to light. Feedings consist of 570g (20oz) of raw beef, and a time-delayed flash bulb set to emit a single 1-candela pulse.
Addendum: SCP-191 was delivered in a black canvas bag to Site-26 in Stockholm in early 2008. Sender unknown. Opening the bag in standard clinical lighting conditions led to Incident #26-0734-08. SCP-191 is currently contained at Site-32 at the North Pole.[50]
Representation
Art
Audio
Animation / Video
Video Games
Video Game Mods
Translations
SCP-191 has been translated into the following languages:
Redacted/Expunged Information
This is all information that could be found that was redacted or expunged and could not be found what the answer is.
Alteration 6, "It has been determined that this system would allow SCP-191's bodily systems to be restarted after death, and may have actually [DATA EXPUNGED]."
The 5th Alteration.
What the goo she excretes is.
What replaces the reproductive organs, and the complications involved in this.
The 9th Alteration.
What Dr. Salvadore was planning to do with the remaining alterations in Alteration 10.
What valuable data SCP-191 may have that would make the Foundation want to keep her.
What the adult was wearing in her second picture during the first test.
Her third drawing in the first test.
Who was originally being seated at the table only visible on the C-2 camera in the third test.
The original license plates in the third test.
What the conversation is that SCP-191 adds during the final segment of the third test.
References
Community content is available under
CC-BY-SA
unless otherwise noted.